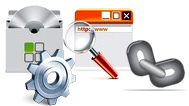 Other Products

MSI to EXE Setup Creator tool provides facility to create self executable EXE file installer from .net framework MSI installation files. EXE Generator tool converts MSI installer files into self executable EXE files without altering the original file structure.


Website Monitoring Tool facilitates users to monitor webpage uptime, downtime link availability to measure website performance. Website traffic analyzer tool immediately sends notification to the user via email, mobile sms and sound beep when your site is not responding.


Backlink checker software monitor advertiser site link status on publisher website. Software checks availability of website link and send alert notifications via email if link is not found or web page is not displayed.